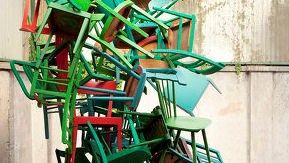 Printing Works at the Market
TOLEDO i DERTSCHEI
Small-format publications are printed on paper with hand presses, using hot-metal typesetting. TOLEDO i DERTSCHEI will provide an example at the markt_platz on Vienna's Brunnenmarkt: "Slow printing" gives festival-goers the opportunity to create various kinds of printed material with letters from a type case.

Theatre of Destruction
Lena Goldsteiner  
Theatre of Destruction has to be understood in the greater context of repair, production and plastic recycling. While experts diagnose and in some cases repair household appliances, in the Theatre of Destruction yellowed plastic can be crushed and shredded for use in new applications. Thus the life cycle of the plastic and appliances becomes tangible.
mmm for hke workshop
Inga J. Weihe (büromacht)
In its survey on "mankind, manufacturing and material" (short: mmm), büromacht investigates the Caritas Vienna hke workshop with regard to social responsibilities. In a joint process, the existing order of social institutions will be questioned, while collective thought and discourse are encouraged.
Best Before – On Planned Obsolescence
mathak + mahlknecht
An installation with an expiration date draws attention to an omnipresent yet rarely addressed topic: the manipulation of the ageing process.
Full Pension
Gebrüder Stitch
Seniors are invited to bake together with the younger generation, exchange secret recipes and, above all, wisdom and experience. The workshop focuses on the way society deals with age issues.