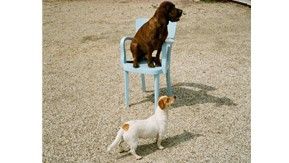 Objects for Neighbourly Encounters
Friederike Wolf and Julian Bühler
Objects for Neighbourly Encounters explores the boundaries between public and private space. The key question is: "How do we adapt to the urban environment outside our own four walls?" Taking the fence and its iconography as a starting-point, the two design students from Hamburg reinterpret and challenge it in their work.
Fabulous In-Between Wood
Miriam Pollak and Daniel Mikolajcak
In the borderland between Vienna's 3rd and 11th districts lies the industrial zone Erdberg. Neither the dormant-lying industrial remnants nor the stylishly renovated industrial buildings are really accessible to the local population. Through interventions, the designers will turn the area next to the former garden centre, between the subway stations Zippererstrasse and Gasometer, into an urban-rural living room.
Guide the Diver! Design for Dumpster Dialog
Kultúrgorilla collective
How can we bring together edible food waste from urban households and dumpster divers without their losing their dignity? Guide the Diver by Kultúrgorilla addresses this issue and, along with Hungarian designers, develops concepts, a sign system, packaging technology solutions and information material.
Willing & Able – A Social Hub for Knowledge Exchange
Andreas Pohancenik
During the VIENNA DESIGN WEEK, the designer will run a "learning bar" in which senior citizens – particularly former craftsmen – can pass on their knowledge. The imparting of production techniques and old recipes is supposed to encourage festival-goers to make use of the older generation's expertise.
Come Down and Chill! 
Paradocks collective
The increasing requirements of today's working world call for new methods for supporting the health and performance of working people. A possible solution might be learning from other people and age groups. Learning, for example, how children who enjoy movement can then effortlessly relax afterward. Or how elderly people with life experience behind them take responsibility with composure while being caring at the same time.